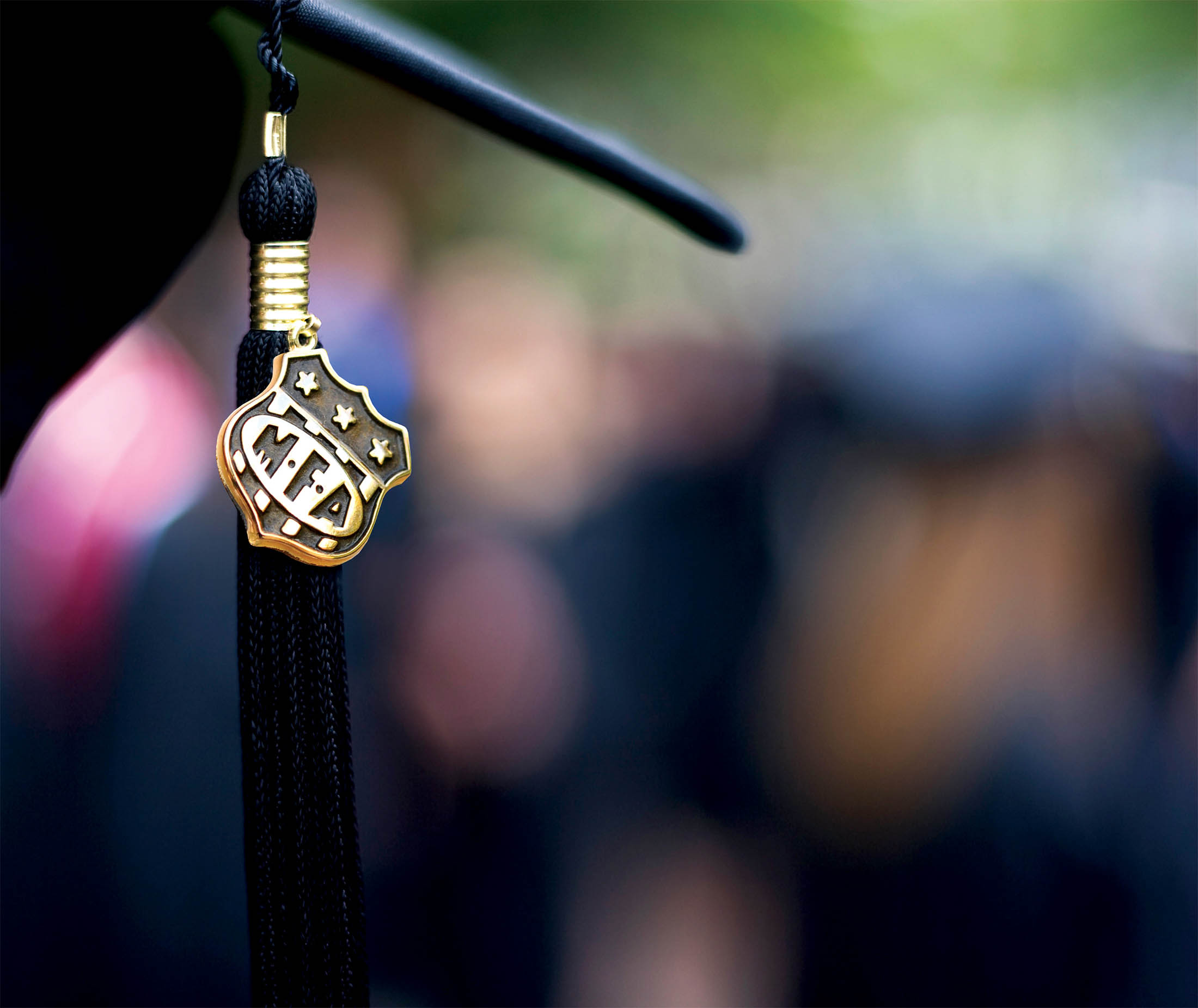 2023 Scholarships announced
Investing in youth education is truly an investment in agriculture. The MFA Foundation Scholarship Program is a prime example of that commitment. Established in 1958, the Foundation is a nonprofit, philanthropic organization with the primary purpose of advancing educational opportunities for high school seniors in MFA's trade territory. Since 1965, the Foundation's principal mission has been awarding MFA Foundation scholarships, giving financial assistance to more than 15,000 students, totaling more than $17 million. 
In an increasingly complex world, education and technical training become important tools for today's young people to flourish. The MFA Foundation scholarships are intended to help students pursue studies and develop careers that enhance the future of rural America. These scholarships are offered to high school seniors who are children or grandchildren (including step-children or step-grandchildren) of member-level customers of MFA Agri Services Centers, MFA Oil Company bulk plants or propane plants, or qualified customers of other MFA affiliate locations. The scholarships are $2,000 each and to pursue any course of study that leads toward an academic degree such as a Bachelor of Arts, Bachelor of Science or Associate's Degree at an accredited college or university. Eligible high school seniors are encouraged to apply online HERE.
This year, 274 high school seniors received scholarships worth a total of $548,000, co-sponsored by the MFA Foundation and MFA locations.
Throughout its history, MFA has continually endeavored to make a difference in our communities. One of the best ways to positively impact the future is to cultivate the next crop of agricultural leaders, and these scholarships are one way MFA is fulfilling that mission.

Here are this year's winners of the 2023 MFA Foundation Scholarships:
Noelle Marie Abend, Rich Hill
Lacee Nicole Abner, Hamilton
Lacey R. Allen, Reeds
Derek Wyatt Alms, Gainesville
Rachel Kathleen Ancell, Macon
Emily Anderson, Warrensburg
Chelsey Nicole Andrus, Ash Grove
Cali Alexis Arnold, Humeston, IA
Dylan J. Aufdenberg, Burfordville
Abigail May Bachura, Alta Vista, KS
Emma J. Baepler, Jamestown
Aislynn Denise Baker, Atlanta
MacKenzie Dawn Baker, Kirksville
Riley M. Baker, Parma
Carson L. Ball, Bruner
Ethan Charles Ball, Lamar
Rachel Marie Baretich, Bland
Jonathan M. Bax, Eldon
Ryce Caden Bennett, Clarendon, AR
Kahl Justice Berry, Bolivar
Isaac Robert Bird, Gallatin
Tate Levi Boles, Marshfield
Jacob Louis Boone, King City
Braden William Booth, Fair Grove
Hunter James Boots, Moberly
Tyler Robert Borgmeyer, Fulton
Lily G. Boschert, O'Fallon
Trey Brakensiek, Wright City
Garrett Mason Bray, Maysville
Bailey Nicole Brewer, Oak Ridge
Wyatt Tony Bridgeman, Owensville
Maggie Jo Brockmeier, Hale
Blaine Xander Brodersen, Florence
Darcy Lee Broglin, Holcomb
Ali Marie Brown, Grant City
Makenna Lynn Broyles, Olpe, KS
Breckyn RaeAnn Brummett, Lockwood
Ella D. Bruno, Macon
Kirstin Kimberly Buck, Nevada
Cole William Burch, Walker
Brady Beau Burgess, Richmond
Rafe Jeffery Byassee, East Prairie
Lindsay Byrd, Sikeston Claire
Jane Carpenter, Millerton, IA
Sarah Jo Chesnut, Stark
Madelyn Chiarottino, Bevier
Erin Lee Clouse, Ava
Samuel Allen Coin, Pattonsburg
Destiny Collins, Novinger
Clay Allen Cook, Shelbyville
Tucker James Cox, Martinsburg
Alex Brayden Criswell, Hartsburg
Elizabeth Nicole Crocker, Ashland
Lily Grace Crosson, Eolia
Ryan Allen Cruse, Salisbury
Peter Garrett Dampf, California
Emma Daniels, Hornersville
Cameron James Davis, Appleton City
Ryan Matthew Davis, Lamar
Weston Shawn Deering, King City
Harper Starr DeMoss, Columbia
Samuel Joel Derks, King City
Mikayla Dawn Dibben, Junction City, KS
Gracie Jo Dickson, Milan
Martin Gregory Dieckmann, Sibley
Jackson Edward Dill, Marshfield
Hayden Joseph Dixon, Caotsville
Logan M. Dove, Green Ridge
Emmalee Ann Drebes, Palmyra
Gentry Duncan, Centertown
Allison Kaye Dunwoody, Moberly
Lydia Kay Eaton, Harrisburg
Kyle Dale Eckhoff, Lincoln
Gracyn Lyn Eifert, Cole Camp
Daci Re'Ann Elbrader, Frontenac, KS
Sidney L. Engelmeyer, Iberia
Lily Rae Falconer, Linneus
Hannah E. Fehring, Neosho
MaKenzie Marie Felten, Fayette
Gavin Cooper Ferguson, Willow Springs
Erin Christine Fick, Freeburg
Jocelyn Marie Finley, Gardner, KS
Cash C. Fisher, Dunnegan
Brooklyn Foreman, Walker
Lance Gregory Fort, Martinsburg
Harrison Benjamin Fowler, Hallsville
Mauriana Elizabeth Frame, New Hampton
Lillianne Grace Franklin, Perryville
John Clayton Frazier, Lebanon
Ian Blaise Freiburger, Verona
Collin Joseph Fritsch, Sainte Genevieve
Abigail Rose Fry, Mountain Grove
Tori Dawn Fuemmeler, Armstrong
Braeden William Fuller, La Plata
Billi Jacqueline Galliher, California
Samantha Michelle Gallivan, Half Way
Mason W. Gibson, Reading, KS
Jenny Hope Glueck, Chaffee
Madison Michelle Haley, Queen City
Ryan Michael Hall, Novelty
River L. Hamaker, Leon, IA
Parker Evan Hammond, Meadville Clay
Alan Hanson, Graham
Marissa Harkey, Sedalia
Kyla Breanne Harms, Mora
Jaxon Andrew Harper, Tina
Kayley Anne Hauber, Grant City
Alli Jo Mae Hayes, Monett
Brayden C. Headrick, Salem
Natalie Elizabeth Hedlund, Fairfax
Marissa Ann Heins, Concordia
Clayton Heinze, Kahoka
Maggie Elaine Hickman, Princeton
Audrey Katherine Higgins, Deepwater
Kade Newton Hodge, New Hampton
Harleigh Jane Hodges, Taneyville
Samuel Peyton Hodges, New Madrid
Larissa Hoelmer, Hermann
Konnor Neil Hoerrmann, Browning
Trey Austin Hoffman, Archie
Gracie Renae Holcomb, Albany
Wendell Louis Hoskins, Steele
Anisten Evelyn Houghton, Hamilton
Garrett Edward Hundley, Boonville
Taryn Elizabeth Hunter, King City
Benjamin Dean Ipock, Winona
Lane Charles Irwin, St. Elizabeth
Gavin Lee Isch, Gridley, KS
Owen Thomas Ives, Cole Camp
Kaycie Lynn Jackson, New Boston
Mara Jensen, Vandalia
Matthew Paul Jermain, Conception Jct.
Levi Johnson, Trenton
McClane D. Johnson, Savannah
Breanna Charli Jo Kellum, Grovespring
Ava Deann Kemper, Hawk Point
Elsie Elaine Kigar, Greentop
Kaden Kinsler, Elsberry
Lane C. Klein, Versailles
Mason John Kliethermes, Loose Creek
Dylan Joseph Koenigsfeld, Morrison
Andrea Suzanne Korte, Bowling Green
Emma Kraenzle, Ste. Genevieve
Jewley Annette Kraus, Memphis
Brooks Dean Kreisel, Concordia
Marci Marie Lammers, Pilot Grove
Mason Wayne Lampkin, Hermann
Lindsey Faith Lancaster, Malden
Brody Langfitt, Gilman City
Ben Robert Lause, Washingtom
Truman Lee Ledbetter, El Dorado Springs
Austin Scott Lee, Lee's Summit
Daniel Dean Lesher, Tarkio
Braden Lee Lichtenberg, Brookfield
Jacob William Licklider, St. Clair
Peter Joseph Littlefield, Exeter
Caleb David Lucas, Rock Port
Bailee Jo Luttrell, Ellington
Shayla Kay Lynn, Cross
Timbers Rhease Danyelle Manier, Houston
Justus Blaine Martin, Fulton
Skylur Emil Mashek, Richards
Harlee Maxwell, Walnut Grove
Lauren Elizabeth McIntyre, Ravenwood
Aliciah Marie Mefford, Moberly
Joslynn Mae Mefford, Clarence
Oliver Midyett, Salem
Shane Charles Minor, Pleasant Hill
Ellie Rian Mitchell, Dadeville
Reid Monsees, Alma
Macie Jean Morris, Butler
Ryleigh Rae Morris, Walnut Grove
Hailey Elizabeth Morton, Macomb
Mallory Morton, Ash Grove
Owen Abraham Neely, South Greenfield
Avery Lynn Neidholdt, Keytesville
Kiera R. Neighbors, Troy
Allison Marie Newman, Slater
Jeret Nichols, Pleasanton, KS
Trey Matthew Noakes, Lowry
Corbin Odle, Pomona
Keaton Odle, Pleasant Hill
Olivia DeLora Oerly, Jamestown
Austin Marcus Orth, Centralia
Cameron Lee Oswald, Fairfax
Noah Ryan Oswald, Mound City
Abigail Leigh Overshon, Dixon
Taylor Jax Palenske, Strong City, KS
Adelynn Grace Palmer, Center
Hunter Parris, Kingsville
Mia Elizabeth Pemberton, Parsons, KS
Audrey Mae Peterson, Elkland
Chloe Ann Petree, Bunceton
Griffin Mark Phillps, Farmington
Tanner Hall Pierce, Kennett
Ashlynn Danielle Presley, Malden
Zoe Jane Priggel, Portageville
Ashley Louise Rankin, Bedford, IA
Ayren Mariah Rapp, Schell City
Ryan Rauh, Perryville
Olivia Dawn Reed, Washington
Andrew Ross Rhoades, Princeton
Hannah Nicole Rice, Brunswick
Danielle Marie Riedel, Pickering
Rebekah Reagan Riffle, Garden City
Dylan Robertson, Platte City
Tucker Cahill Robnett, Laddonia
Taylor Willows Rode, Fair Grove
Benjamin Nathan Roehrig, Washington
Gabrielle Ruth Rohrbach, California
Aliyah Renee Rojas, Gideon
Audrey Marie Ross, Center
Kadie Lynn Rounkles, Tina
Grayden Ely Rowbotham, Gainesville
Molly Rushing, Sparta
Helen Addyson Salmon, Franklin
Ruby Schmidt, Carrollton
Brooklyn Riley Schrag, Farmington
Makena Ray Scott, Marlow, OK
Molly Elizabeth Scott, Wellsville
Kylie D. Scrivner, Ava
Abigail Nicole Shaffer, Moscow Mills
Jenna Shanks, Centerview
Libby R. Shaver, Grovespring
Bradley Allen Shaw, Stoutland
Ebanie Ann Shaw, Windsor
Blake D. Shelton, Conway
Chase Simmons, Unionville
Ahna Sinclair, Montgomery
City Ashley Renee Sjostrand, Hartsburg
Cali Jo Smith, Success
Lillian Frances Smith, Bolckow
Rylan Cooper Snodgrass, Beaufort
Ashley Lauren Spry, Edwards
Katelyn Michelle Stoll, Stanberry
Carsyn Elizabeth Swain, Cape Girardeau
Avery Edson Tallman, Glenwood
Hailee Jo Tarpening, Marceline
Brunson Tenholder, Adrian
Drake A. Thompson, Lexington
Emma Carmen Thompson, Laredo
Brecca Claire Thornill, Clark
Zoe Renae Thornton, Noel
Frank Todaro, Holden
Gabriel Richard Todd, Mountain Grove
Jori Leigh Todd, Seneca
Kennedy Nicole Travis, Saint Clair
James Jathan Ungles, Skidmore
Aidan Lee Vaught, Crane
Ainsley Nicole Viets, Girard, KS
DeLana Brooke Vogelsmeier, Sweet Springs
Kylin Elaine Wagner, Sarcoxie
Lily Opal Wagner, Vienna
Ava Marie Walker, Kirksville
Mary Grace Warden, Bolivar
Eli L. Warren, Ludlow
Gracie Marie Waterman, Lebanon
Rylee Paige Watson, Monroe City
James Brendan Weaver, Marshall
Madeline Rose Weber, Saint Charles
Abby Dayle Welch, Bolivar
Presley A. Wells, Jamesport
Bryson John Wessing, Boonville
Alaina Whittington, Diagonal, IA
Kiser Kelc Wiatrak, Saint Paul, KS
Emily Paige Willman, St. Clair
Joshua Caleb Wilson, Bunch, OK
Caden D. Winters, Sioux City, IA
Jaidyn Renee Wood, Independence
Olivia Wooden, Dawn
Cooper David Wright, Ozark
Autumn Lynn Young, Koshkonong
Hannah G. Youngblood, Berryville, AR
Corbin Dale Zimmerschied, Sweet Springs
All towns are Missouri unless otherwise noted.
Links related to the MFA Foundation
View the photos of winners as published in the 2023 Aug/Sept issue of MFA Incorporated's member magazine, Today's Farmer: https://mfa.ag/23scholars.

The Foundation scholarships are also announced in the Fall issue of MFA Oil's member magazine, Momentum: https://www.mfaoil.com/news.
Read more about eligibility requirements HERE: https://www.mfafoundation.com/who-can-apply.html.
Eligible students may APPLY HERE between Dec. 1, 2023 and Feb. 15, 2023.
The MFA Foundation is a collaboration between MFA Incorporated, its local affiliates, joint venture partners and MFA Oil Company.